Quanum 3-Axis Mobius Camera Based Gimbal
Коптеры
→
Подвесы для камер
→ Quanum 3-Axis Mobius Camera Based Gimbal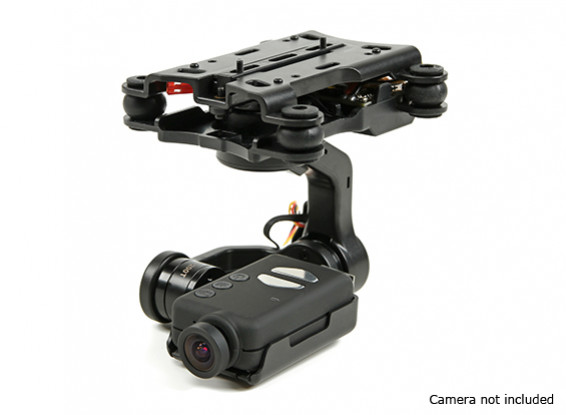 The guys over at Quanum have set the bench mark high yet again for performance, quality and price point by producing this high quality 3-Axis brushless camera gimbal specially designed for use with Mobius type action cameras.
It is a fully molded construction which is glass filled providing lightweight, strength and durability. This gimbal has a quick release rail mount to ensure that your setup time is keep to a minimum. The rail comes with attachment slots that allow it to fit DJI Phantom, Quantum Nova, CX20, XK 380 and others.
The AlexMos controller with Basecam (simple BGC) gives precision control to the gimbal and comes calibrated and pre-configured from the factory. It can also be easily customized by you to your requirements.
The Basecam graphic interface software and direct USB link makes this gimbal controller straightforward for beginners to use. In addition, the software can be used to configure the BGC for complete axis lock or the popular "follow" mode.
For a full list of features and firmware support check out the manual under the files tab below or check out www.basecamelectronics.com
Basecam has a huge on-line support community with how-to videos and forums for tuning and creative ideas.
All cables (power, video and audio out) for the Mobius camera are already built into the gimbal for ease of use.
Already factory calibrated this gimbal requires very little setup, simply mount the rail on to the bottom of your multi rotor, slide on the gimbal, install your mobius camera and you are good to go.
Features:
• Lightweight, strong, durable construction
• Compact size
• 3-axis gimbal optimized for Mobius camera
• Quick release rail mount
• AlexMos controller with Basecam (factory pre-configured)
• Live video out and power cables for the camera
• Stylish black color fully molded, glass filled construction
• Included Adaptor for install the gimbal to DJI multirotor vehicle.
• USB cable connected
• Gimbal comes factory calibrated. (User can re-calibrate themselves.)
Specs:
Operating voltage: DC 9~18V (recommended 12V, 3S LiPoly battery)
Operating current: 500mA~600mA (depends on voltage supplied and motor power)
Operating temperature: -15°C~65°C
Sensor: 3-axis gyro and 3-axis accelerometer
Control accuracy: 0.02°
3-Axis Control Range: Roll +/- 150 degree, Pitch +/- 45 degree, Yaw +/- 360 degree
X,Y axis: 18 series motors
Z axis: 22 series motor
Mounting Rail: 30~50mm apart screws (supplied)
Weight: 200g (with Mobius camera)
Includes:
Quanum 3-Axis Mobius Gimbal
Spare thimbles for vibration isolation
Manual
Поделиться
Цены на Quanum 3-Axis Mobius Camera Based Gimbal в магазинах
Найдено предложений: 1 ()
См. также
Подвесы для камер